2022 Exhibition – Artfully Yours!
Artfully Yours,

the 15th annual Art Hawke's Bay Exhibition, is being held again in the new venue,
the Community Arts Centre in Russell Street Hastings, from 2nd May to 14th May 2022
This event brings together works by members of art groups throughout Hawke's Bay in one combined selected exhibition, during which all entries are for sale.
The 2022 Exhibition does not have a Hawke's Bay theme as in the past. Artists still need to be members of a Hawke's Bay art group or special members of Art Hawke's Bay, however an exception is made for sculptors.
The art categories are: Land, Water, People, Abstract and Art Unlimited. There is also be a Sculpture category. The winners of all these categories won prizes of $300 each. The Schools category winner received a prize of $250. Prizes were also awarded for Best in Exhibition ($400), a special prize "Most Imaginative" ($350) and a Best of the Backroom Prize –
At the end of the exhibition, there will be a People's Choice Award ($75), so call in and place your vote for your favourite work!
Opening Night



Again we expect to have an awesome Exhibition Opening & Awards Evening on Monday 2nd May at 5pm 2022
2021 Exhibition....It was lovely to see so many artists and supporters come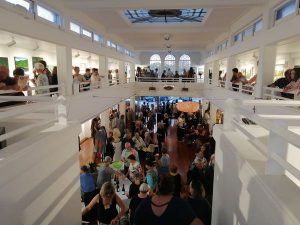 along and enjoy the art and sculptures. Many thanks to all our many guests, artists, committee & volunteers. Thank you to the Woodford House students who played so well, and their staff. Our two selectors, John Brown and Susan Mabin did a wonderful job working through so many entries – thank you! A special thank you to our generous sponsors and grant providers, without whom there would not be an exhibition.
We look forward to seeing you at Artfully Yours from 2 May to 14th May 2022
Workshop
2021- A free workshop was held for ten artists with tutor Helen Dynes.
A new date will be announced for the 2022 workshop and tutor.
Winners 2021



Congratulations to all our winners >>