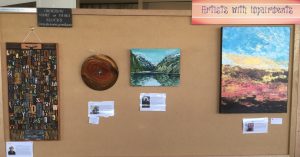 Because of our change of venue, we have decided not to hold the Artists with Impairments section in 2021. However we do hope to be able to offer this section again in future.
We know that being an artist is a hard road to travel. Being an artist with impairments takes extra layers of resilience and fortitude.
In 2019 we invited up to three submissions from artists who felt that this display suited them at the time. There was no selection process or submission fee, and works were not be part of the judging. Artists were welcome to display a price on works for sale, with our usual commission applying. The artists provided a paragraph or two about themselves and the challenges they experienced.