Brown Webb Richardson 2018 Art Hawke's Bay Scholarship
Helen Dynes will privately tutor one or two artists at a Scholarship Workshop.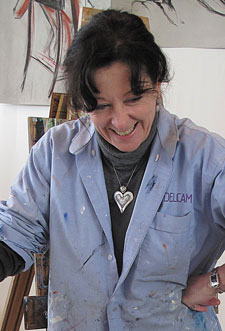 Whatever your skill level, you will learn valuable techniques and broaden your horizons under her tutelage.
The Scholarship
The scholarship is to be called the 'Brown Webb Richardson 2018
Art Hawke's Bay Scholarship'.
Two vouchers for $50 of art materials will be supplied by

Humanity Books & Fine Art Supplies.

The scholarship includes 1½ days of free private tutoring by a recognised artist.

The tutoring takes place at the Cheval Room at the Hastings Racecourse on Tues 20 March (all day) and Wed 21 March (half day). Times to be advised.

There will be one or two recipients (no more than two).

The scholar(s) are to produce a finished work of art, to be exhibited at the exhibition and donated to the silent auction for Cranford Hospice.
Applications
Applicants must belong to an art group associated with Art Hawke's Bay.

Applicants must be available for the date/time of the scholarship.

Closing date for applications is Sunday 10 March 2018.

Using the entry form below, applicants should submit the entry form showing: Name, address, art group, preferred medium, 2 or 3 photos (JPEG or PNG*) of your paintings, reason for applying for scholarship. Send photos to: newsletter@arthawkesbay.co.nz.
Please note: the above information refers to our exhibition held in March 2018 and is retained on our website for historical interest only. When details have been finalised, details relating to our 2019 exhibition will be posted.