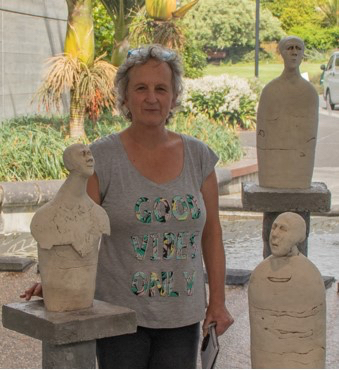 Sculpture Section Selector
Susan Mabin is a multimedia artist working in installation, sculpture, painting and photography. Susan graduated from Ideaschool, Eastern Institute of Technology in 2018 with a Master of Professional Creative Practice, having completed a post graduate diploma in 2016 and her degree in 2014. Susan has been a finalist in the NZ National Contemporary Art Award in 2016 and 2017, the Molly Morpeth 3D Canaday Award and the Adam Portraiture Award in 2018, and the Molly Morpeth Canaday Painting and Drawing award in 2019. She has work in private collections, including The Wallace Arts Trust.
Susan lives in Napier, Hawke's Bay.
Entering the Sculpture Section
We invite sculpture artists to submit an entry to the Art Hawke's Bay Exhibition being held 30 March to 11 April 2020.
The final selection and winner will be judged at the venue by our guest selector Susan Mabin.
There is a prize of $300 for the winner of the sculpture section.
The sculpture may be of any subject but we encourage you to have a reference to Hawke's Bay if possible.
Sculptors may display a price on works for sale, commission will be taken on items sold as per other exhibition entries.
Entry is limited to one per person, with the dimensions of the work to be no greater then 750mm x 500mm x 1800 high…smaller is acceptable.
Please email your expression of interest to Sheryl Eustace at 50sheryle@gmail.com asap, or phone her at 021 183 1534.
After this please send images of 3 sides of your entry to 50sheryle@gmail.com. INITIAL SELECTION WILL BE MADE FROM THESE IMAGES.
You will be asked to bring your sculpture to the venue (Community Art Centre, Hastings) on Saturday 28 March, between 5 and 6pm – NO LATER PLEASE AS SELECTION IS AT 6PM.
You will be notified Sunday 29 March if you have been successful.
ENTRY FEE IS $10 – Please send with entry form.
Please note: Sculpture Artists do not need to be part of a Hawke's Bay Art club.